I'm just the tiniest bit Canadian. Although I was born in Scotland, I lived in Canada (Alberta, Saskatchewan and Ontario) for a couple of years as a tot and my dad still lives over there today. I went to visit almost every summer of my childhood, and became well acquainted with things like A&W, root beer, Hershey's Kisses, Tim Hortons and Chinooks.
But I haven't managed to make it out so much in recent years. My summers filled up work and travel with friends, and it became hard to find times which suited both me and my dad. So this year, I decided I'd go in December! Straight into the freezing Alberta winter. Brr.
My first sight of Canada looked like this:
Snow as far as the eye could see! It was a sight for sore eyes after the miserably wet winter we've been having in the UK.
My dad was there to meet me at the airport, and we drove down to the city he lives in, Lethbridge, with his lovely wife and my two beautiful half-brothers. We spent a few days just chilling at home and catching up, and me getting over my jet lag, and then headed to the mountains for a few days for some wintery activities.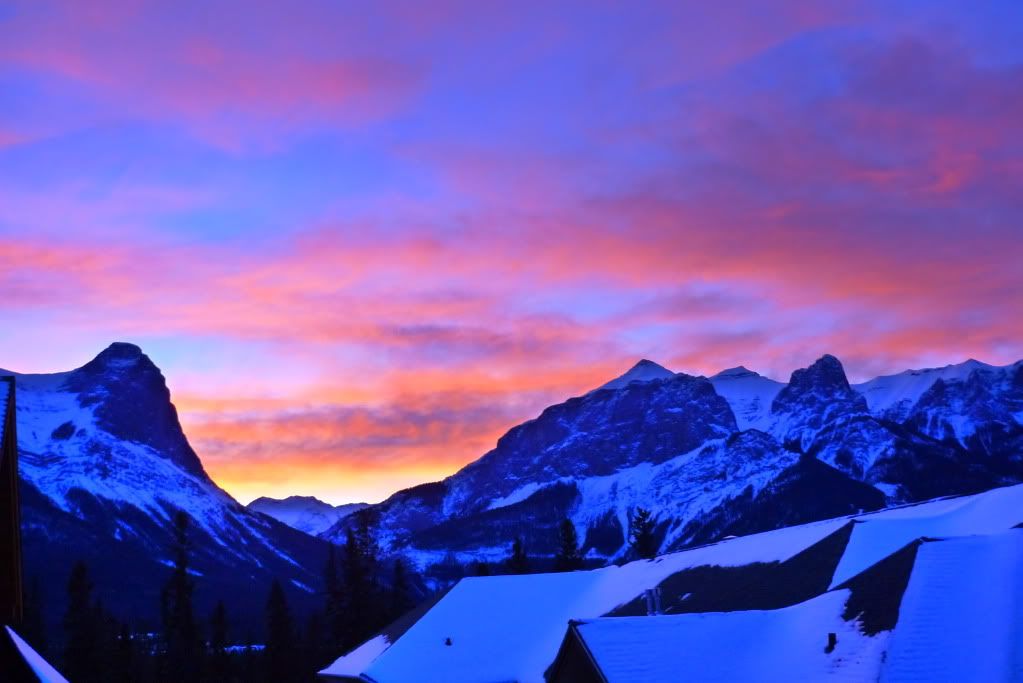 At the end of our first day in Canmore, sunset from the balcony looked like this. Pretty spectacular.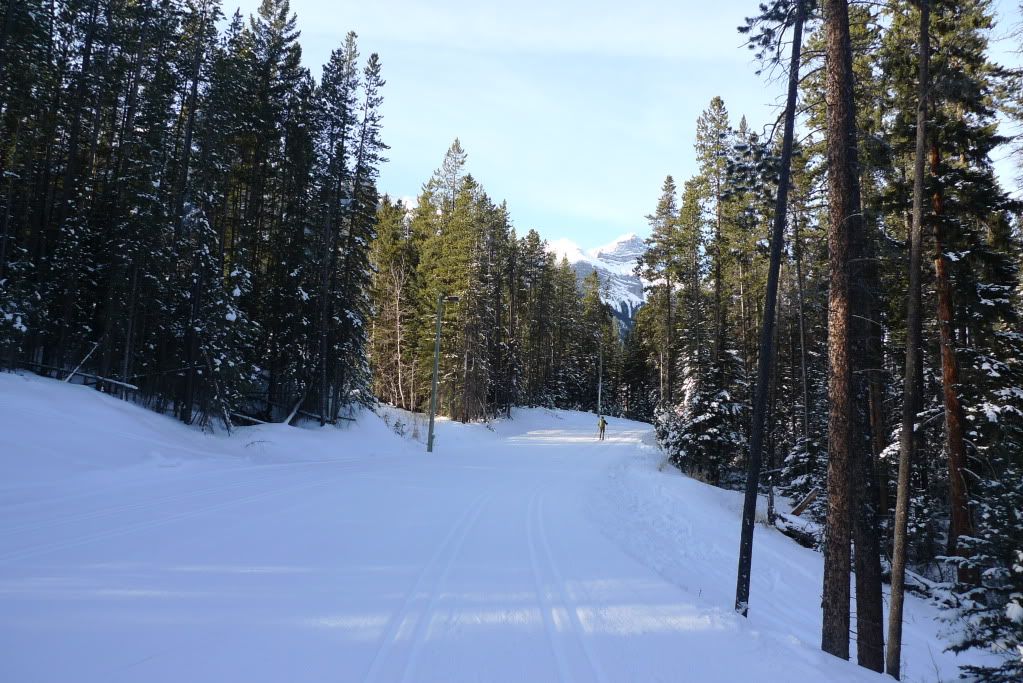 Now, I am not much of a snow bunny. The last time I even had a pair of skis at my feet, I was 8, a whopping 14 years ago. Hitting the slopes was out of the question for me! But, we did do some cross-country skiing, which was beautiful. I was a little wobbly at first (like Bambi on skis) but soon got the hang of it and was whizzing happily along... until I fell on my arse, that is. Ouch!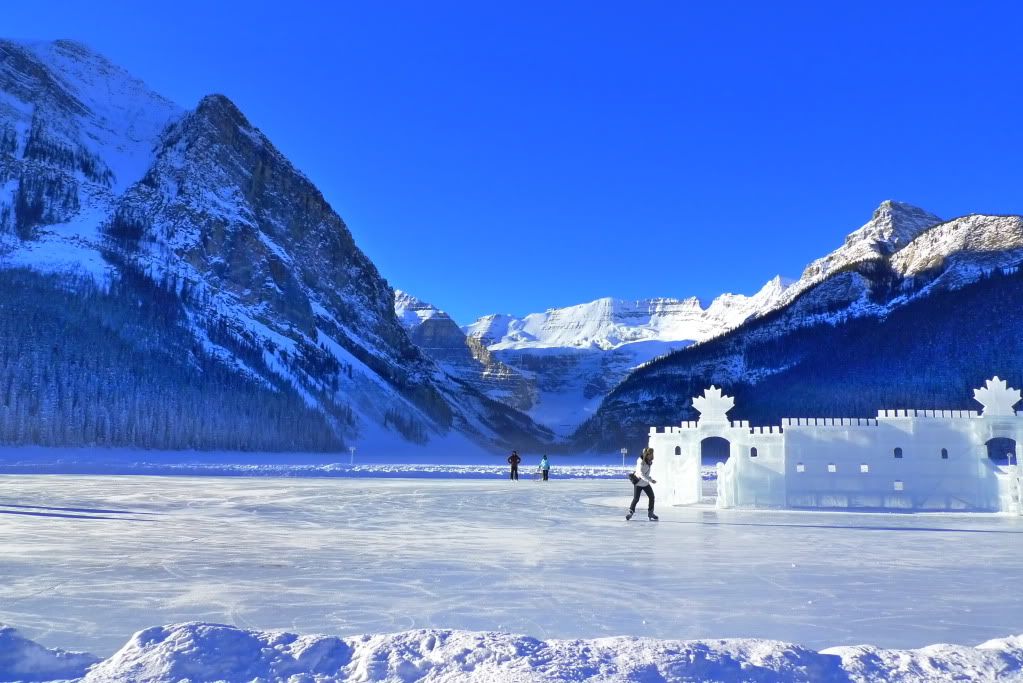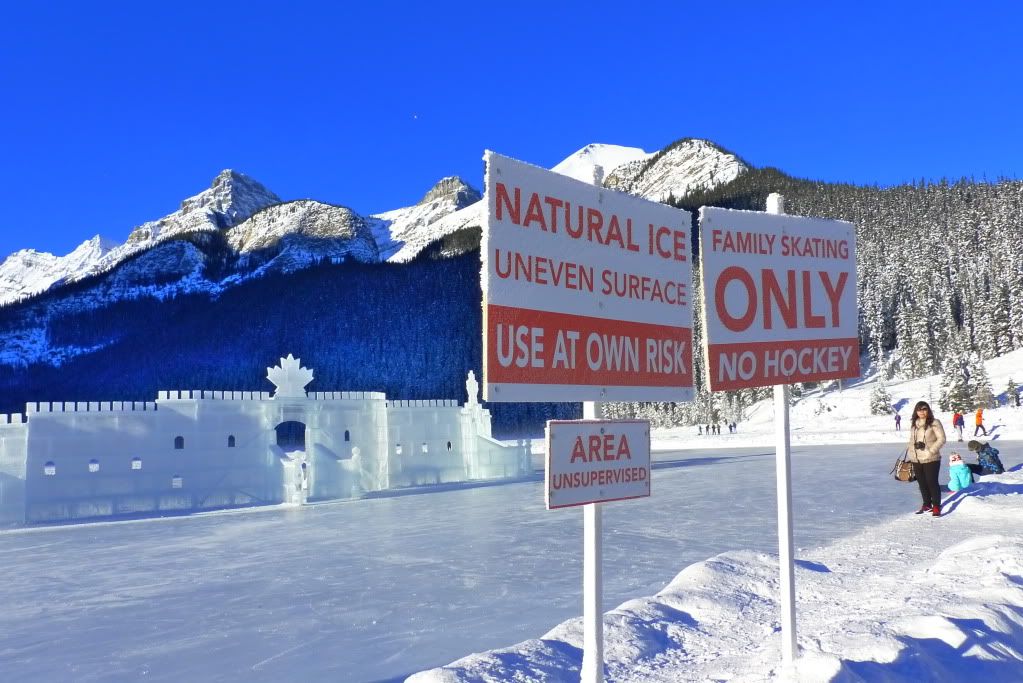 The next day, we got up nice and early and headed for Lake Louise. Ever since I was a tot I've always loved this place - initially solely because 'Louise' is my middle name - but it is a place of absolute beauty. I have never seen it in winter though! Is it just me or does snow make everything infinitely more beautiful? And look at the super cool ice sculpture!
My stepmum and brothers were doing some downhill skiing, and as my dad is none too comfortable on skis either, him and I did a spot of hiking.
It was fantastically cold that day. The car thermometer was showing about -22, and my hair turned to frost. It was quite pretty, but I'm not sure it would have been too good for it's condition!
Despite the cold, we made it to the top of the trail! Behind me is Mirror Lake, which, as you can tell, isn't much of a lake in winter. It was barely discernable under all the snow. That's Beehive Mountain looming impressively in the background.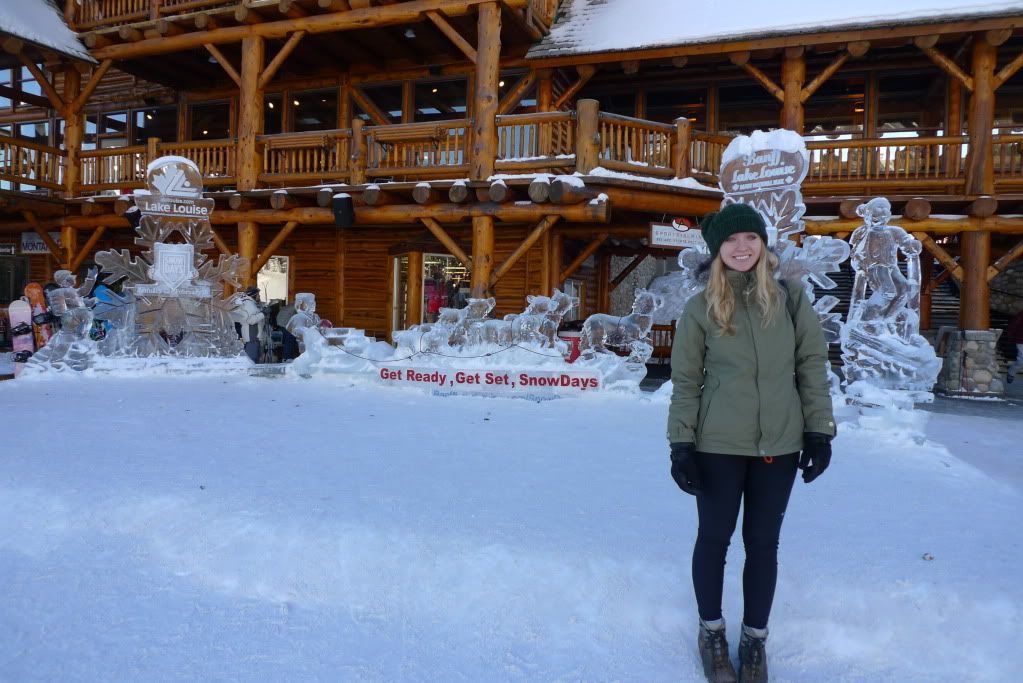 Then it was back to the ski lodge, where I found more ice sculptures to admire, whilst waiting for the skiers to finish up for the day.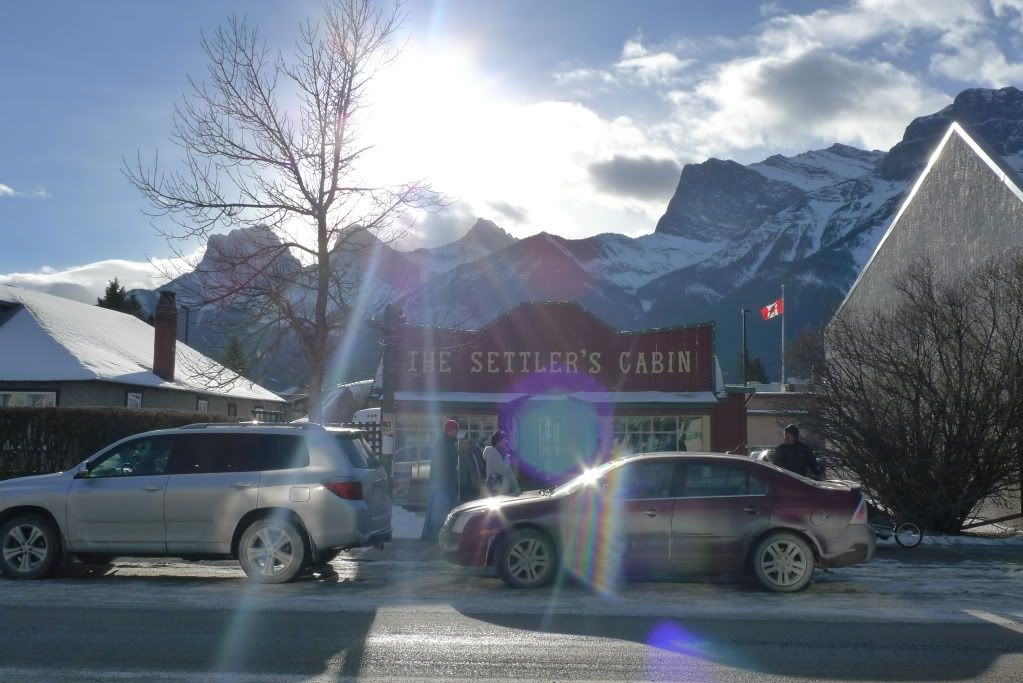 The next day we headed into downtown Canmore to have a bit of an explore. It's such a beautiful little town, mountain views all around and quaint little buildings and shops, some selling some adorable hats...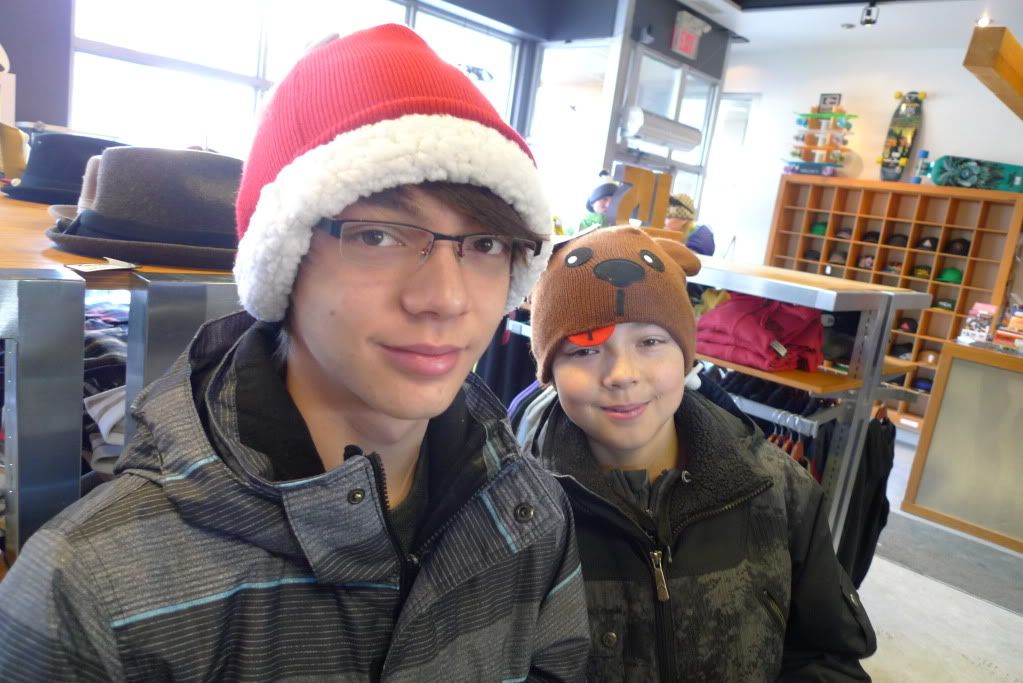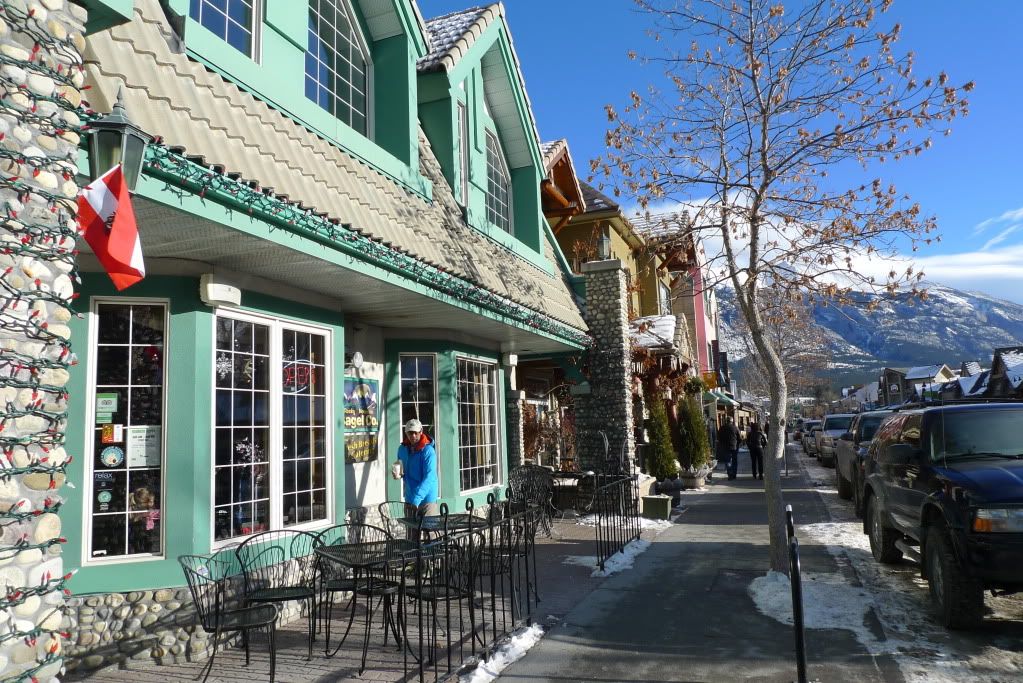 In the afternoon we headed over to Banff to have a little mooch around there. I've been to both Canmore and Banff several times before, but have failed to appreciate how lovely and beautiful they are until now. Probably because I was either a child or a moody teenager on every visit, but at least it wasn't lost on me this time.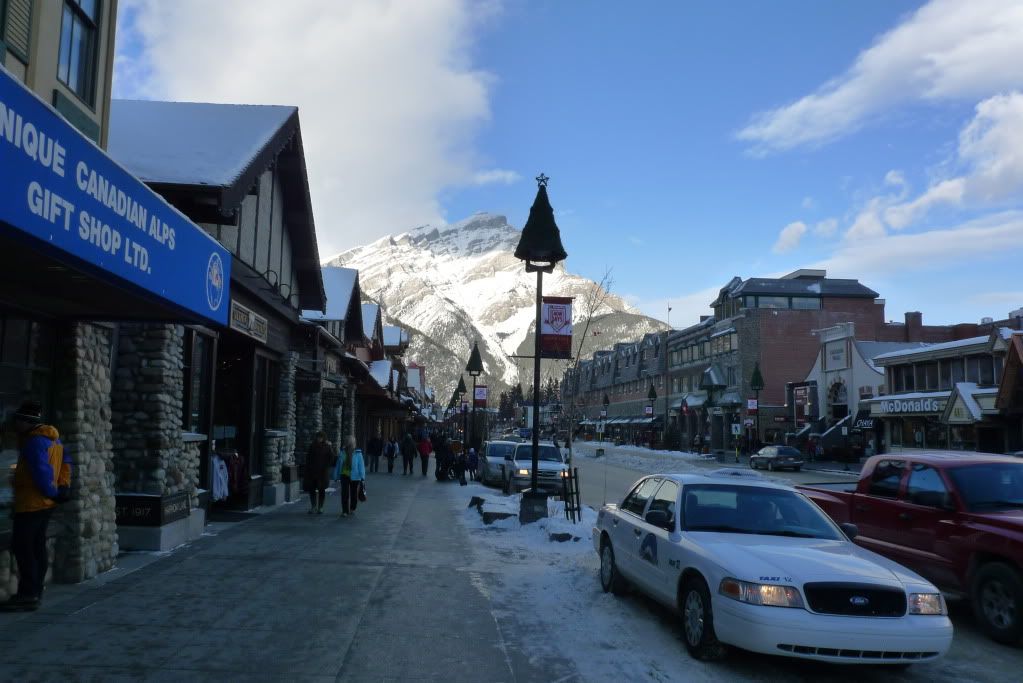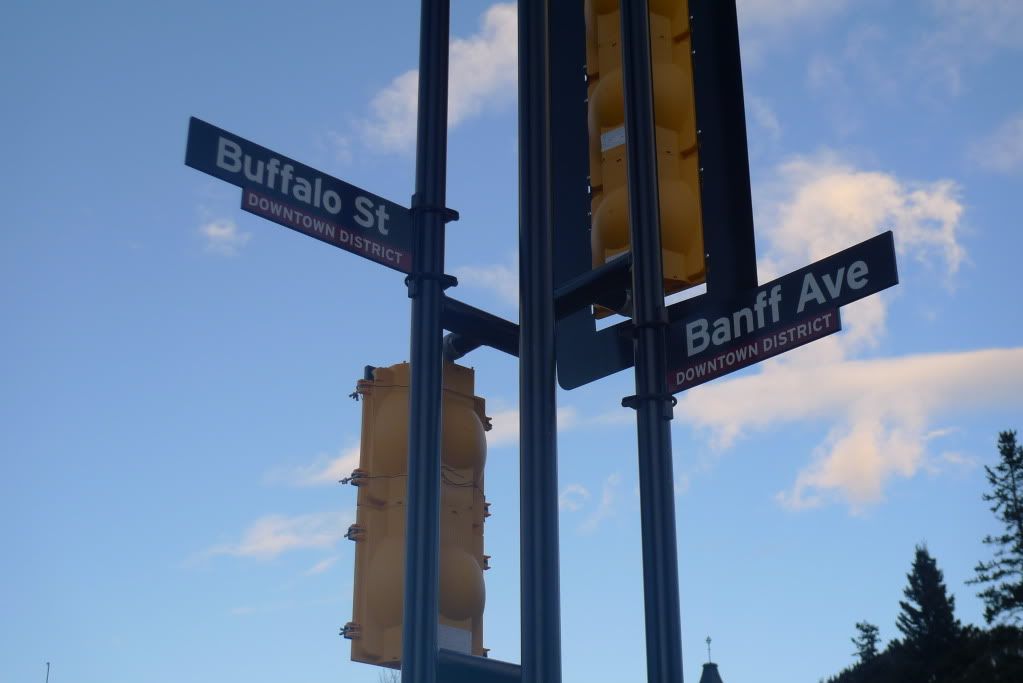 I love the street names in Banff. Many of them are named after animals native to the surrounding areas, like Caribou Street, Wolf Street, Elk, Otter, Squirrel, Bear, Moose, Muskrat... Wouldn't it be great to say you lived on Squirrel Street?
After our little mountain vacation was over it was back to Lethbridge, just in time for the boys to go back to school. I got to do lots of big sister things, like watch them at speed skating practice, help them with their homework, embarrass them with questions about girls and make them pose for pictures with me in the snowy back garden. They loved it really!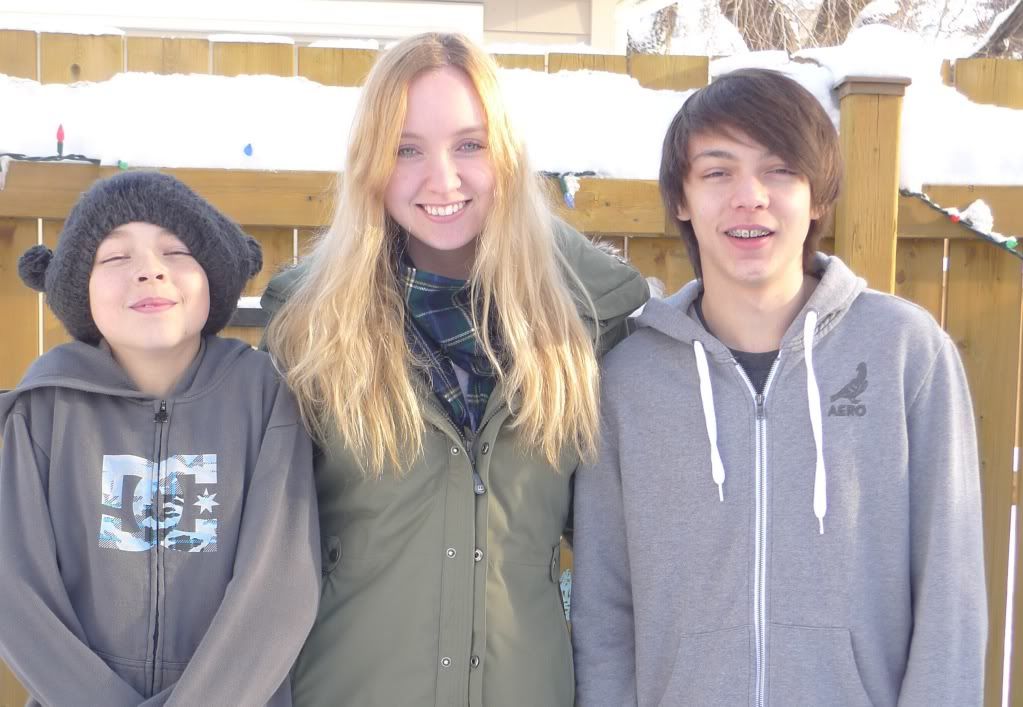 Soon enough my visit was over and it was time for the ever tearful trip back to the UK. It was such an amazing holiday though, and family aside, Canada is a fantastic country. It is so beautiful and I find the people to be incredibly friendly and chilled out. I'm very tempted to look into moving there permanently after I finish at uni. I just love it. If you've never thought about visiting I'd definitely pop it on your list, even if it's just to experience A&W root beer...! (It's that good.)
P.S. I went a little bit crazy in the drug stores, so if you'd like to see a little 'Canadian beauty haul' post, let me know!